This is a guest article from Julia Scott of BargainBabe.com, a Plutus Award winner for Best Deals and Bargains Blog.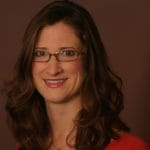 I got into blogging to get attention and to this day, getting attention is still what I'm best at. Before I launched my site, BargainBabe.com in January 2009 to help people save money, I was a reporter at the Los Angeles Daily News. A reporter who sat across from me loved to brag how many hits his blog had got and what juicy comments readers were leaving. I wanted a piece of the action.
I started blogging and was addicted. Ten posts a day. An email list. A column in print based on the blog.
When I received a 10-year syndication offer for my column, a "best of the blog" piece that ran once a week, I knew I was sitting on something big. I thought about my future. Another 10 years in print? That thought terrified me. I knew my future was more secure online.
So just as the housing bubble was bursting, I quit my job and began working for myself. Nobody called me crazy — to my face.
I was so thrilled to have my own site that I would wake up at 2 a.m. to work. I literally could not sleep. I was fueled by the desire to succeed as much as I was fueled, perhaps, by the desire not to fail.
Early on, I focused on getting media coverage. I knew how to pitch because I was used to receiving dozens of pitches everyday. I knew what time of day to approach reporters. How persistent to be. What kind of storyline would appeal to them. When to back off.
But I also knew that media coverage was a quick way to establish my brand and site as trustworthy. It didn't help much with traffic, but the intense media coverage created opportunities with other businesses, who saw me as a worthy partner.
And it worked. In my first six months alone, I was covered in the media no fewer than 51 times. And that was earned media — meaning I earned coverage, I didn't pay for it. My site was covered by some of the biggies, too: Detroit News, NJ Star-Ledger, Time Magazine, AM NY, Washington Post and the LA Times.
How did I get so much coverage? Here a few quick tips to get media coverage.
Research a reporter before you pitch them. Do they even cover the type of story you are pitching?
Follow your target reporter on Twitter, Pinterest, and other public social media feeds they may have. Glean what their personal interests are and see if there is a NATURAL way to incorporate this into your pitch. Do not force it.
If they have a blog, comment on it several times before you pitch. Spend at least two hours reading it.
Get their direct email address by scouring the web. If you cannot find it, call the company's main line and ask for it.
Write a short pitch. I cannot stress how important this is. Reporters do not enjoy reading two pages of BS.
How short is short? One paragraph. Maybe two. Boil it down, people.
If they want more info, they know how to ask. Trust me on this one. Their job is to ask questions.
TV pitches need to be visual. Newspaper pitches should contain a new or unusual element. Or involve very old people or babies.
Pitch reporters in the morning, in the first two hours of their workday.
Call five minutes after emailing your pitch to follow up.
Be ready to pitch your story in a single sentence should they happen to answer their phone. If you get their voicemail, leave your one sentence pitch there.
Always leave your phone number on voicemail.
Follow up with two more email/voicemail combinations over a week.
If you don't hear back, move onto your next pitch.
If you have questions about getting media coverage, feel free to Tweet at me at @icm_pr. Or, if your question is private, shoot me an email at [email protected]. I'd love to hear from you.
Thanks for the great tips, Julia! If you have expert tips for bloggers you'd like to share with the community, contact Luke.