Kylie overcame domestic violence, homelessness, robbery, rape, paralysis, a cancer scare and mental health issues as a single mum to become a multiple international award-winning CEO, keynote speaker, author, blogger and charity advocate, in the space of 3 years. Through her work, Kylie won 3 Plutus Awards, was a finalist for Young Australian of the Year and a runner-up for numerous other business and advocacy awards. Kylie was the youngest ever director on a board for a homeless charity in Canberra and is passionate about ending homelessness and domestic violence.
Kylie's focus is helping others turn obstacles into opportunities and helping Australians to make and save money to empower independence, which she does predominantly through her websites The Thrifty Issue and Kylie travers.com.au. Kylie also works with national and international governments and corporations regarding finance, marketing, charity efforts and public speaking. She lives in Melbourne, Australia with her two daughters.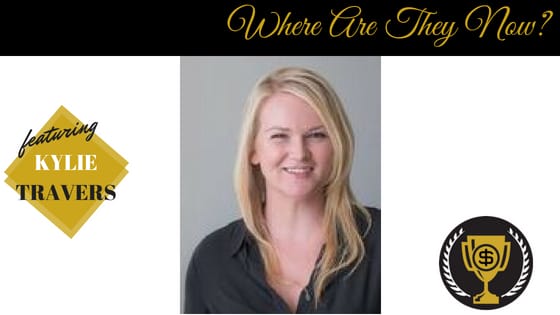 1. Can you tell us about your blog and what Plutus Award you won?
I own a few blogs, though currently Kylie Travers and The Thrifty Issue are the two most closely associated with me. For Plutus Awards, I've been awarded three – Best International Personal Finance Blog in 2012 and 2013, then the inaugural Plutus Foundation Service Award in 2015 for my work in ending homelessness and domestic violence as well as my business endeavors.
On Kylie Travers, I share how I went from homeless single mother because of domestic violence to CEO, motivation, tips and I focus a lot on helping people living on welfare in Australia. Through this blog, I also do a lot of public speaking and charity work which has helped raise millions to end homelessness and domestic violence plus saw me be a finalist Young Australian of the Year, along with numerous other awards.
The Thrifty Issue is an Australian finance site empowering women through financial independence. We share ways to make and save money and are regularly featured on TV, radio and in other media. I purchased this blog with the intention of flipping it like I have others, but fell in love with the community I built and the income from it has been fantastic.
2. How did you feel winning the award knowing it was from your peers?
I was ecstatic. In fact, I remember with the first one I won, I was sitting towards the back, chatting with friends when my name was announced as the winner and it took me a few moments to realize it was me! I couldn't believe it and hadn't for a moment thought I'd win.
With the Plutus Foundation Service Award, I was unable to be there that year and had no idea. I had arrived in Tasmania for the funeral of my grandfather and also had severe health issues with paralysis, level 10 pain, and multiple surgeries. As I sat down at my aunt's house, my phone started going ballistic from everyone at the Plutus Awards sending me congratulations and love. Unbeknownst to me, JD and Shannyn, two of my friends from FinCon, had accepted the award on my behalf and told everyone a bit about the domestic violence, homelessness, and my life. They requested everyone send me love and support. I burst into tears when I found out because it came at a time when I needed it most. It stills makes me choke up a little thinking about it.
3. Where are you now? Are you still doing the same blog? How has it changed?
Still living in Australia, though I've moved to Melbourne with my two daughters. So much has changed since winning the awards and because of winning. Being a finalist in 2011 and meeting everyone that year gave me the courage to leave my abusive relationship. Winning in 2012 solidified me as an expert in finance for Australia as there weren't many finance bloggers when I started. The Plutus Award gave me more credibility, numerous media opportunities and meant I was able to earn extra income in ways I wouldn't have been able to without it.
Now, my life is so different. I am usually referred to as an entrepreneur because I have a few businesses, founded a company and sold it, am looking at my next one and do various things. As an author, public speaker and consultant I have worked with national and international governments, travel internationally and have a life I love.
The blog I won the first two awards is no more because it was under my married name and I changed it back to Kylie Travers so it redirects to a new site.
Right now, I work 10 to 20 hours a week on various things, The Thrifty Issue earns 6 figures and is regularly requested for media, all without much effort anymore from me. My focus is on living the life I want with my daughters and blogging has enabled me to do that.
4. What advice would you give someone looking to grow their blog today?
It's so different from when I started years ago! If it's a finance blog, definitely get involved with FinCon and The Plutus Awards. They are an incredible community. Go self-hosted straight away with a WordPress site. Learn what you can from others, but most importantly, take action! All the learning in the world means nothing if you aren't putting it into practice.
No one will be perfect right off the bat, but putting it out there, focusing on quality content, supporting your community and having a clear direction will all ensure success.
Also, use tools to make life easier, as you grow, outsource what you can and remember to reinvest in yourself and your business.
5. Blogging can be tough. How do you keep up with motivation?
My community of readers is amazing. Many have followed me from my early days. Their enthusiasm and support help a lot. Also, I am incredibly lazy! I don't want to work long days, I want to spend time with my daughters and travel so having those as my goals makes it easier to do what I need to in a short period of time.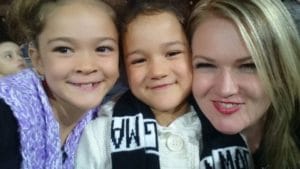 Having an editorial calendar, a proper plan, outsourcing and working when I am motivated all help. By planning ahead it means if I have a few days where I feel 'meh' I can take them off and it doesn't impact too severely.
Lastly, I take time out. If I don't feel the motivation I either set a timer to make myself achieve something within a set period or I leave. I'll go for a run, hit the gym, book a holiday (or just take one. I've been known to pick my kids up from school and surprise them with a weekend away because I was over everything that day. They love it and their friends are jealous!)
6. Where do you see yourself going from here? Any plans in the works you can share with us?
Goals and plans are like oxygen to me! I always have them, even if it doesn't always work out. Due to a long, drawn-out custody battle I had to put some plans on hold for a bit. I have a well overdue manuscript for a book which I signed a contract for back in 2014! It's done, I just haven't felt it was the right time to publish it yet but will soon.
Investing in, founding or buying more businesses/companies is the direction I am heading. I don't want to be a CEO again but I love building businesses, expanding them, selling them for a profit or reaping the rewards without being involved in the nitty-gritty.
I'll keep The Thrifty Issue for a while, continue with public speaking and other projects I have going. The plan is to stick to 20 hours a week or less, travel a lot more, have more investments and continue with the flexible lifestyle I have so I can pick and choose what I want to do. Freedom is extremely important to me, so all my decisions and plans are structured around getting more of it.
7. What is your greatest achievement outside of blogging?
I've overcome paralysis twice, cancer issues, homelessness, domestic violence, being robbed of everything including my underwear, helped my daughters overcome severe learning disabilities, founded and sold a company plus used my personal experiences to raise awareness and millions in funding to end homelessness and domestic violence. As such, my life, in general, is my greatest achievement to me.
Being able to take all that trauma, turn those obstacles into opportunities and use them to help others while creating my ideal lifestyle for my daughters and me, it's an achievement. Though usually, I simply view it as this is my life. It is what it is, I did what I needed to do and I am grateful for it.
Thank you, Kylie, for updating us on things with you! If you have any questions or comments for Kylie, please leave them below.