Featured in Forbes, The Huffington Post, Inc, and Business Insider, Amanda Abella is a Latina Millennial Finance Expert who created an online community where millennials can learn how to make money online and actually enjoy their financial journeys. Her ever-growing community is currently made up of over 40,000 individuals across social media and email subscriber channels.
In 2014, Amanda launched her Amazon bestselling book, Make Money Your Honey: A Spirited Entrepreneur's Guide to Having a Love Affair with Work & Money which has been featured in Yahoo! Finance and Seventeen Magazine. The book has also appeared on top business and finance podcasts like John Lee Dumas' Entrepreneur on Fire and Farnoosh Torabi's So Money. She launched the Make Money Your Honey podcast on iTunes in 2016.
Since 2017, Amanda now dedicates herself to influencer work with brands like Intuit, Capital One, and Better Mortgage. She also coaches bloggers on how they can create their brands and monetize them through her bestselling programs, including "How to Make Your First $50K As An Influencer".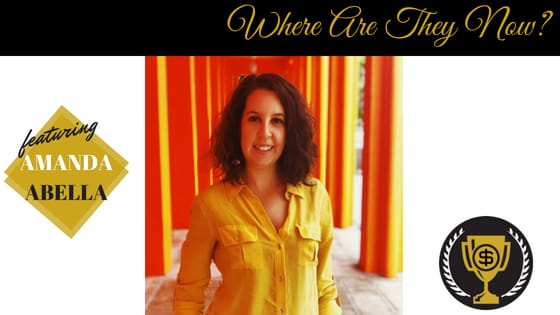 1. Can you tell us about your blog and what Plutus Award you won?
My blog is AmandaAbella.com which is my internet home where I talk all things money and lifestyle since 2010. I won the Best Designed Personal Finance blog award.
2. How did you feel winning the award knowing it was from your peers?
It felt amazing! The design was very intentional. I knew money was something that makes people uncomfortable or people think it's boring – so I decided to take it upon myself to make it more inviting and funky with lots of colors.
3. Where are you now? Are you still doing the same blog? How has it changed?
I am still doing the same blog but the focus has definitely changed. In the past, I talked a lot more about managing money (i.e. budgeting, paying down debt) but my audience grew beyond that and wanted more content on how to earn more money. Now I cover a lot more money mindset, sales, negotiating, branding and marketing. I now also have programs for bloggers who want to become business owners which cover marketing and sales. The mindset stuff – particularly as it pertains to money – is also really resonating with my audience.
4. What advice would you give someone looking to grow their blog today?
Blogging (and online marketing) is both a science and an art. The science is the numbers, formulas, analytics, systems etc. They are all necessary. But the heart of the matter – the emotions that your audience is feeling, your own story, your perspective – is an art form. Both can be learned.
Also, from a business perspective, don't get hung up on traffic. I have coaching clients who came to me because they were told to only focus on traffic as a means of monetizing through ads. When I asked them how much traffic they had, they had thousands more than I did. However, they were making $20 bucks a month whereas I'm making $10,000+ a month. There are easier ways to get to the money than just focusing on traffic.
5. Blogging can be tough. How do you keep up with motivation?
It's not a job for me, it's a vocation. I was born a creator. I also know my message needs to get out there in order for me to help more people. Even in my personal life, I'm often told that I'm the only person people know who actually openly talk about money!
6. Where do you see yourself going from here? Any plans in the works you can share with us?
Yes! I have a sales training course in the works, a mastermind and a live event I'm working on! I'm also partnering with way more brands. Keep an eye out for this one haha.
7. What is your greatest achievement outside of blogging?
It's my own personal development. I'm very proud of the woman I've become and how self-aware I am. It's allowed me to build (and continue building) a life by design and not just by default. I'm also really good at helping people in my personal life move through the emotions and beliefs that often time sabotage us in our financial lives. I've become the go-to among friends and family because I'm able to give them grounded advice and hold the space for them to be in their feelings without getting wrapped up in them myself. That's definitely something I'm proud of because I'm able to help people I care about when it comes to a very touchy subject. It also shows how far I've come in my own financial journey because I used to have the same emotions.