Today, the Plutus Foundation announced the team who will be handling the organization's day-to-day operations. Friends of the Plutus Awards will recognize these names. Soon, the foundation will announce its initial Board of Trustees, so be ready to see even more names you'll recognize from the financial blogging community and beyond, many with nonprofit expertise, all who are ready to lead the organization into the future.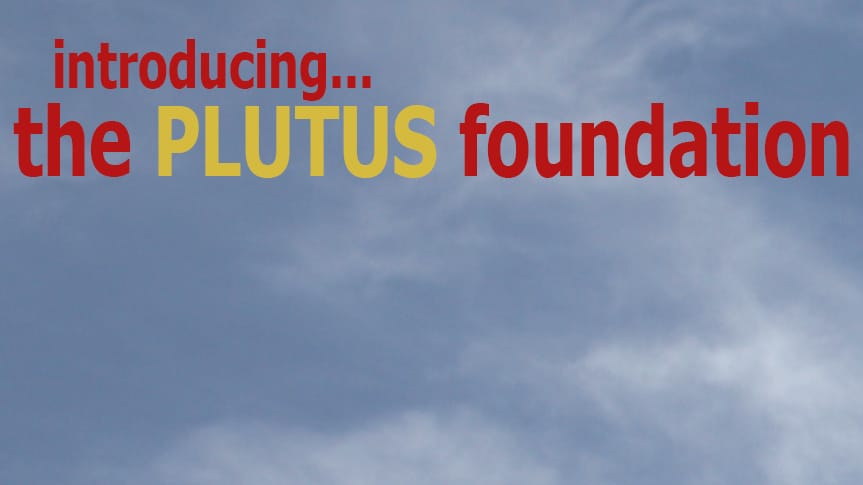 The Plutus Foundation is proud to announce its founding administrative staff: H. Luke Landes, Miranda Marquit, and Athena Lent.
The goal of the Plutus Foundation, a foundation for the independent financial media, is to provide grants to charities and other nonprofit organizations that create and run programs that fulfill a goal aligned with the mission to enhance the financial capability and well-being of citizens of the world. The Plutus Foundation is a community foundation, a 501(c)3 nonprofit organization (pending approval), and grants will be directed by a steering committee reporting to the Director of Grants and Programs.
"The Plutus Foundation offers a way for the financial media, particularly bloggers, to give back and have a positive effect on the financial issues that concern the world. It's a great example of how this community works together beyond publishing and speaking," says Executive Director Landes.
Landes founded one of the first independent "personal finance blogs," Consumerism Commentary, to hold himself accountable for his own financial decisions. The website became a popular online destination, providing basic financial guidance to young people, with focus on education, awareness, and decision-making. Landes also founded the Plutus Awards to highlight independent financial publishers, and The Plutus Foundation is an extension of that project.
Director of Development Marquit covers money topics as a financial journalist, having been involved in local politics in the past. She is a member of the Plutus Awards Executive Committee and heavily invested in the personal finance blogging community and financial literacy. "I've always wanted to make a difference, no matter how small. By working with the Plutus Foundation, I hope to be part of something meaningful, whether it impacts a handful of people or thousands of people," she says.
Lent, Director of Grants and Programs, has been involved in the nonprofit sector for the past twelve years, during which she has overseen both programming and development for many nonprofit organizations geared toward youth. She recently received a national award recognizing her programming from Jobs For Americas' Graduates.
For more information about The Plutus Foundation, visit plutusfoundation.org.