One of the best things you can do for your growing blogging business is to network and build connections. You never know when a good conversation (and a little alcohol) will give birth to the next great partnership idea or provide you with the missing piece you needed for your latest marketing push.
A couple weeks ago, on Tax Day, we held a FinCon/Plutus Awards meetup in Las Vegas. Many of the attendees were in town for NMX, so we decided to get together for some finger foods and drinks — paid for by PT (FinCon) and Harlan (Plutus Awards). I was fortunate enough to arrange the get-together at Chayo Mexican Kitchen + Tequila Bar. The folks at Chayo were great, providing us with a semi-private area, and serving unlimited drinks for two hours, and offering finger foods. Plus, if you look around on Facebook a little bit, you might see a video or picture of PT riding a mechanical bull.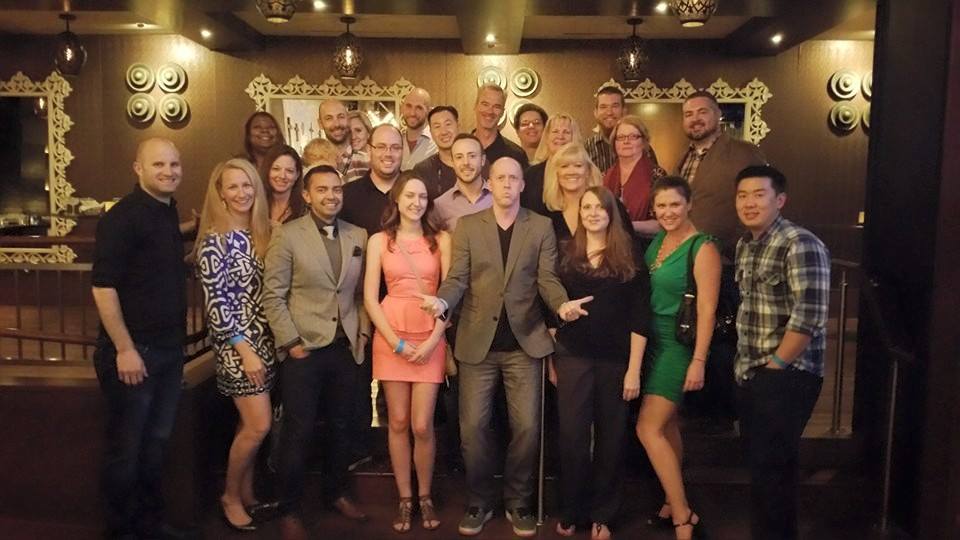 Get to Know Your Blogging Peers and Build Community
An event like this isn't just about having fun; it's also a good way to get to know your blogging peers and build community. Ten years ago, when I started blogging, there weren't a lot of meetups and conferences. If you wanted to meet with other bloggers and talk shop, NMX (called BlogWorld at the time) was pretty much the only place to go. Now, blogging has grown as a legitimate business model, and there are niche conferences all over the place and meetups in major cities around the world. Getting to know your community is an important part of growing your business, building your brand, and seizing new opportunities.
I know that my business would be different (and less successful) without FinCon, and the Plutus Awards have become a big part of my life. However, these chances to connect with my community aren't just about my business or my way forward; in many ways, my life would be poorer without the ability to forge relationships with those in this community.
From late-night conversations at FinCon that result in new partnerships and business ventures, to the sense of community togetherness we feel when we recognize each other at the Plutus Awards, in-person events draw us together, allowing us to learn from each other and become stronger as a community. When we are stronger as a community, we attract more business opportunities and become a force to be reckoned with.
Independent financial bloggers have been influencing the financial industry for good for several years now. United, we can raise awareness and change "business as usual." Individually, many of us may not feel as though we have a lot of influence, but together we are stronger than we believe. And, as we continue to attend meetups like the FinCon/Plutus Awards event held in Las Vegas, we will strengthen our ties, build on new ideas, and continue to move forward as a community.
Don't forget to attend FinCon September 17-20, 2015 in Charlotte, North Carolina. And remember, the Plutus Awards will be held on the last evening of FinCon, on September 19, 2015, followed by the Plutus Awards After-Party.
Hope to see you in Charlotte!
(Do you participate in meetups and conferences? What are the most valuable parts of meeting others in your community?)