Kristin Wong is a freelance writer, journalist and author of Get Money: Live the Life You Want Not Just the Life You Can Afford. She regularly writes for the New York Times, New York magazine's The Cut, and Glamour magazine. You can also find her on her blog, The Wild Wong.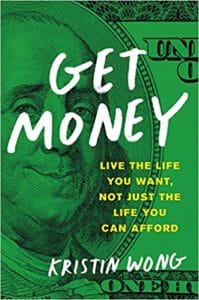 What inspired you to write Get Money?
I figure out my problems by writing about them. So five years ago, I started writing essays for the site Get Rich Slowly about my own experiences with money, from getting out of student loan debt to depleting my emergency fund after a tax emergency. Readers took notice, I think because they could relate to the way I thought about money: not as an expert, but as a regular person trying to wrap her head around it. After a few years of writing, my financial situation began to change. As I was writing, I was also learning — learning to negotiate, learning how to invest. So I'd share these experiences with readers, too, at Get Rich Slowly and other sites, like Lifehacker and NBC News. The more I learned, I started to feel a sense of control and empowerment over my finances, which was huge for me. For most of my life, I felt the exact opposite: like money controlled me.
I decided to write Get Money because I want other people to feel financially empowered, too. Unfortunately, it's not enough to just understand how money works. Personal finance is behavioral. In order to get your money in order, it's absolutely crucial that you feel a sense of power over it. Get Money covers the behavioral stuff. It gradually helps people feel like they're "winning" at personal finance. Yes, the basics of Money 101 are in there, but my main goal is to help readers feel accomplished and capable.
What is your book about?
Get Money covers everything from saving money on all of your bills to learning to invest, step-by-step.
Truly, though, it's about the reader and why she or he wants to "get" money in the first place. You have to establish a specific and meaningful goal for your money. Most people just want to get their finances in order because it's the responsible, grown-up thing to do. That's noble and all, but it probably won't last. With a vague and meaningless goal like that, you eventually get tired of depriving yourself, tracking your spending, budgeting. Without a clear and meaningful goal, whenever you're tempted to spend your money on a fancy night out or Beyonce tickets, all that "responsible grown-up" stuff goes out the window. So at its core, Get Money is about your life goals — the things you value in life more than anything — and how to keep money from getting in the way of those goals. Money is just a tool, and the book is designed to help you figure out how to use that tool to your utmost advantage (even if it is on Beyonce tickets!)
What one key takeaway you hope someone gets by reading your book?
I hope readers will learn to let go of their past financial mistakes. We all make money mistakes, and the bigger they are, the more they can make us want to ignore money altogether. But some research suggests that the more we dwell on these mistakes, the more likely we are to repeat them. So I hope, in reading Get Money, readers will learn to let go of any guilt they have associated with money. That way, they can grow and get better with it.
Who should read this book?
Anyone who wants to get their finances in order without the judgment. Anyone who has discretionary income for the first time in their life and wants to learn how to make it grow. Anyone who is committed to getting out of debt and wants to figure out how to get there even sooner.
What is your writing Kryptonite?
My cat. Every time I get up from my laptop, she lays on my keyboard and refuses to move. Sometimes she deletes whole documents. Thank goodness for autosave.
How do you deal with writer's block?
For me, Anne Lamott's concept of Shitty First Drafts has been the single most effective cure for writer's block. The idea is to just get words on the page, even if they're shitty ones. Stephen King calls it "writing with the door closed." Basically, leave behind the expectation that your writing has to be perfect, or even good, and just start putting words on the page. You can always edit later, but in order to edit, you need a first draft, even if it is a shitty one.
What does your writing space look like?
I write at my kitchen table in the morning and then move into my office, which is a converted garage. And I keep a very neat, clean office. If my space is organized, it seems to help me organize my thoughts better. If my environment is in disarray, then so am I.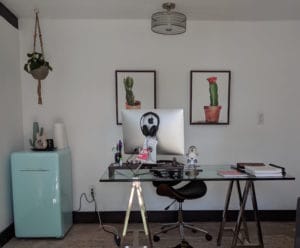 What are your top three favorite books of all time?
It's hard to pick my favorites of all time (I would take waaaay too long to answer this) but some favorites I've read in the past five years and can't stop talking to people about include:
Citizen: An American Lyric, Claudia Rankine
Shrill, Lindy West
Bird by Bird, Anne Lamott
Where can people find you?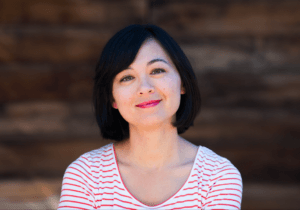 Get Money is on Amazon.
And I write about money, freelancing, and writing at my blog, The Wild Wong.
On all social media, I'm @thewildwong!