Over time, I've come to admire State Farm. The company has been solid, and I've enjoyed my working relationship with the folks I've met. This year, State Farm is supporting the Plutus Awards as the headlining sponsor. In the past, State Farm has been supportive in other ways, and the company is a great supporter of our community.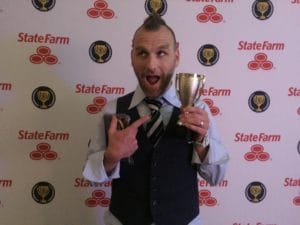 From State Farm:
The mission of State Farm is to help people manage the risks of everyday life, recover from the unexpected, and realize their dreams. State Farm and its affiliates are the largest providers of auto, home and individual life insurance in the United States. Its 18,000 agents and more than 65,000 employees serve more than 83 million policies and accounts – nearly 81 million auto, home, life, health and commercial policies, and nearly 2 million bank accounts. Commercial auto insurance, along with coverage for renters, business owners, boats and motorcycles, is available.
State Farm Mutual Automobile Insurance Company is the parent of the State Farm family of companies. State Farm is ranked No. 35 on the 2016 Fortune 500 list of largest companies. For more information, please visit http://www.statefarm.com
State Farm is excited to participate in our third Plutus Awards in San Diego — and as the Headlining presenting sponsor for the first year. The financial services blogger community is an important network that helps consumers with financial information that helps meet goals and improve lives.