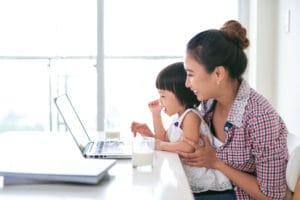 Today we're excited to help spread the word of a movement one of our very own Plutus Foundation recipients has started. Not only has she been helping kiddos climb Mt. Everest in their very own money simulation, she's also made it her own business to help empower work at home mom's to ensure their kiddos get the same opportunities as those with parent's who work outside the home. Let's dive in and find out what she's been up to and how you can get in on the fun!
Hi! Tell us a bit about yourself.
I'm Amanda L. Grossman and I'm over at
MoneyProdigy
partnering with parents to teach kids aged 8-13 how to manage money through educational adventures, like the Mt. Everest Money Simulation. After 9 years of working with adults through their money mishaps over at
FrugalConfessions.com
,  decided that it was time to go for PREVENTION, instead of triage. Because once someone actually reaches out to me for help, it's usually a dire situation. But kids? They're in this perfect, clean-slate area of life where I can really make a difference by helping them NOW instead of when their mortgage payment depends on them getting it right.
I heard you're a Plutus Foundation recipient. What has that been like? What kind of projects have you been able to do with your community?
Winning the Plutus Foundation Grant was a game-changer for my business. Heck, just applying for it was the smartest move I could make. That's because I had had this divine download I had been working on to create a money adventure program around Mt. Everest, something I've always been fascinated by. I had shelved the idea originally but kept getting snippets and visions of what it would look like in my head so I documented them. I would put them down on a digi-notepad and move on. After all, I had a 1-year old at a time and a whole other business, so how would I find the time?
Then the call-out for Plutus Grant Applications came and I knew it was a sign that I should go for it.
Just by applying for it, I was able to organize + clearly communicate this grand idea. In fact, when I sent in the proposal, I knew that I had to start creating it whether I got the grant or not. So that proposal was key in bringing the Everest Money Simulation to life. But then when I GOT the grant? WOW. Now I had not only some money behind my idea to create it, but I had other people who bought into what I had wanted to do, and really believed in me. That meant so much.
So far, I've delivered the program to 331 kids, with RAVE reviews. Much more coolness from it to come!
Congratulations! I see that you are starting a movement. Can you tell us more about that? Why do you feel it's important?
This online biz thing is really new. It's such an amazing option for us Mama Bosses — something that allows us to say YES to both working with our minds, in our passions, AND raising our children. It's this amazing opportunity, and we need to start thinking about how we're going to not only pass our businesses onto our kid(dos), but also how we're going to educate them on the small biz details so that they have a leg up if they want to start their own one day.
Because honestly, before most of us WAHMs (work-at-home-Moms) started our own blogs + businesses, we didn't know things like copywriting, social media managing, how to hire a VA (that a VA even exists), etc. How incredible for us to pass on this information + opportunity to our own daughters and sons.
So, THIS Take Your Child to Work Day? Your own kid(dos) do not have to miss out. I've created a free Playbook for WAHMs. You can create a day around your own business, complete with prep work for both you + your kid(dos) to complete before the big day. You can check out the free playbook
here
.
That's actually an amazing point. Now, you had to give one piece of advice for our new Plutus Foundation receipents, what would you say?
My advice to new Plutus Foundation recipients is to start reaching out to places where you'd like to deliver your new program/creation from the grant to early on, not when your creation is almost finished. It takes quite awhile for a new program to gain some legs and get some "yes's", so starting to email folks like girl scout troops, youth centers, and schools earlier rather than when my project was nearly completed is about the only thing I would do differently.
Where can we find you?